Princess Anne Hotel History
The three story, shingle style Princess Anne Hotel first opened its doors in 1924 during Asheville's economic boom. Built by registered nurse Anne O'Connell and financed by Doctor Karl von Ruck, the hotel promised "Comfort First." Listed on the US Department of the Interior's National Register of Historic Places, the Princess Anne Hotel continues to deliver an exceptional experience to guests.
The History Behind this Asheville Gem
Asheville has always been a destination for health seekers.  In the early 1900's, Asheville was known nationally for having the best in tuberculosis treatment due to the cooler climate and fresh mountain air.  Dr. Karl von Ruck chose this area to complete his research on the illness and lived on nearby Albemarle Road close to O'Connell's sanatorium. The Princess Anne was built to provide a respite for the families of tuberculosis patients being treated at said sanatorium on Baird Street and, as a result, found success early in its history. Nurse Anne O'Connell was dubbed "princess" by her patients due to her flowing red hair and charismatic nature, so the hotel was named "Princess Anne." She ran the hotel for several years before selling it in 1929.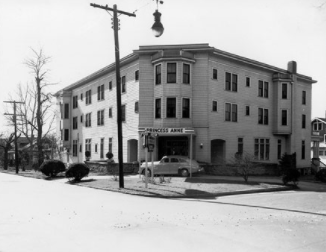 The Princess Anne remained a hotel for a number of years after the sale, and was bought and sold several times throughout the Great Depression.  Having lost all assets aside from the water department, Asheville accrued the highest per capita debt in the country at $54 million.  The Princess Anne managed to stay in business and found a diverse collection of owners, such as the father of Johnny Mercer (writer of the classic melody "Moon River").
In 1942, the hotel briefly became an annex of The Appalachian Hall Psychiatric Hospital due to the government using their space as a WWII military hospital.  After the war, the hotel returned to serving travelers.  From 1957 until 1995, the hotel functioned as a boarding house specializing in retirement accommodations promising "Gracious Living for Senior Citizens." During that time, it was home to women's equality activist Florence Ryan. In 1995, the hotel passed into the hands of the Maharishi Ayurveda University of North Carolina whose founders were once the spiritual leaders of the Beatles .
Award-winning preservationist Howard Stafford bought The Princess Anne Hotel in 2003 and spent two years renovating and returning the hotel to her former glory and was awarded the 2006 Griffin Award by the Preservation Society. Now a 16 suite hotel, The Princess Anne promises "original ambiance and charm with modern amenities to help create a memorable stay," and is, and always will be, uniquely Asheville.